This great mansion, mentioned by Vermilion in a previous thread I posted about the mansion "Noorilim", has a fascinating history.
The house was built in 1877 for James Irving-Winter. Irving-Winter was one of four sons of John Winter who had arrived in Australia from Scotland in 1841 to settle in Ballarat. The subsequent discovery of gold on his property provided the financial means for the family to invest in large pastoral properties throughout northern Victoria; three of Winter's sons took up large areas of land in the Goulburn valley and built large mansions ("Noorilim" was one of these).
James Winter died in 1885, "Dhurringile" remaining within ownership of the family until 1907. After a period during which the property was vacant it was eventually sold to a Vincent Hart in 1925 and continued to remain unoccupied during his ownership.
in 1939 the property was rented from Hart by the Commonwealth governement in order to be used as an internment camp for German and italian alien civilians; the internees were kept at Dhurringile until transferred to other properties - this particular use of the property was shortlived as by 1940 it was again vacated.
In 1941 the property was used by the army for use as a Prisoner of war camp for Germans captured in the Middle East; chiefly German officers as they were given better treatment than the lower ranks.
During its use as a POW camp: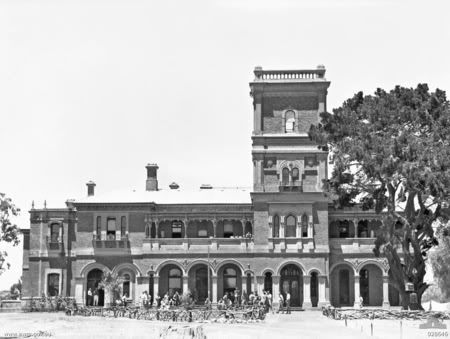 A guard tower:
Some of the camp staff:
Here are some of the german officers, these particular men were survivors of the German cruiser Kormoran, which was sunk in 1941 during an engagement with HMAS Sydney (how extraordianry that these Germans should find themselves imprisoned at the former mansion of an Australian pastoralist in what would effectively seemed like the middle of nowhere to them):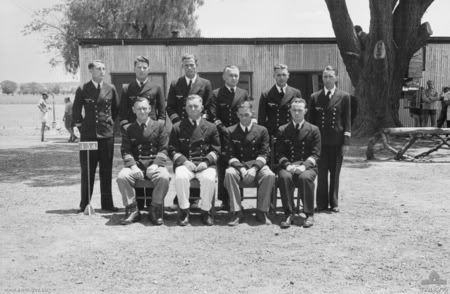 In July 1945 all the prisoners were transferred to different sites and the grounds were cleared of all huts and other military buildings.
In 1947 "Dhurringile" was bought by the Presbyterian Church in order to be used as a home for immigrant boys from the UK whose fathers had died during WWII. It was apparently intended that here the boys could be trained in farming methods as a means of preparing them for employment - it would be interesting to find out how on earth this scheme was dreamt up. By this stage the property had fallen into some disrepair and needed repairs and so the house did not open as the "Dhurringile Training farm" until Jne 1951. I don't suppose it is too difficult to imagine the hardships the boys who found their way in to this program would have endured, it seems like such a drastic change to their lives. The training camp closed in 1964.
In 1965 the property was bought by the Victorian Government Penal Department to be used in the rehabilitation of alcoholic prisoners. The property remains a minimum security prison to this day, although the house itself accomodates no prisoners and is used as a training centre.
Once again we have J.T.Collins to thank for some great photographs:
January, 1966:
1974:
1986: