The Federal Hotel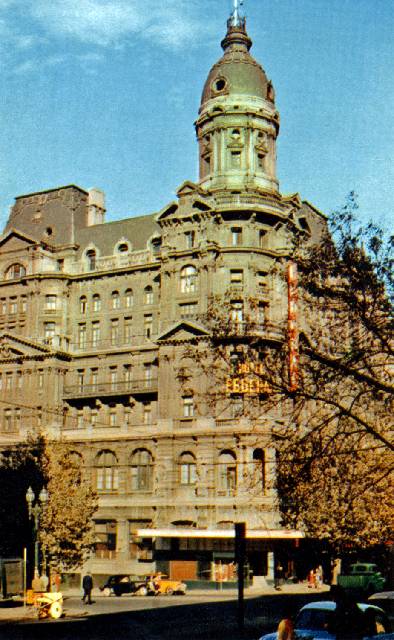 A postcard of the Federal Hotel ~ 1950s.
From
Historic Melbourne sketchbook
The gold rush left Melbourne with huge investment wealth which swelled the boom years of the 1880s. The boom soared to a peak in 1888, when Collins Street land prices reached levels higher than they would be for the next fifty years, and when the city staged a wildly extravagant £250,000 Centennial Exhibition which lured visitors from around the world.
Most lavish of the fifty hotels waiting to pamper sightseers was the Federal Coffee Palace, built between 1886 and 1888 at a cost of £150,000. A bemused contemporary wrote: "It comprises a little of everything – Corinthian, Ionic, Doric, Early English, Late English, Queen Anne, Elizabethan, Australian – in fact, it may be called the last." A later visitor put it more succinctly: "A castle built for a Norman earl by an architect who had been dreaming of Doré's illustrations to Balzac."
Guests were greeted by an inscription over the main entrance:
RESTEZ ICI. SOYEZ LE BIENVENU
(Stay here. You'll be welcome), and two huge plaster dowagers, surrounded by a flutter of cherubs, guarding an inner hall which led to a great hall paved with black, white and red marble. Out of a central pediment rose "Venus, a nude figure of full life-size, drawn on the waters in a cloud chariot by four sea horses and accompanied by several other figures, the whole representing the Aurora Australis."
Six "accident-proof" lifts carried guests to more than 500 rooms. But only eighteen months later many of the rooms were being let as offices and, in the recession of the 1890s, the Federal had to seek a liquor licence to woo back guests from the near-by Menzies Hotel. It survived until February 1972, when it closed its doors for the last time.
Demolition of The Federal Hotel was completed in 1973.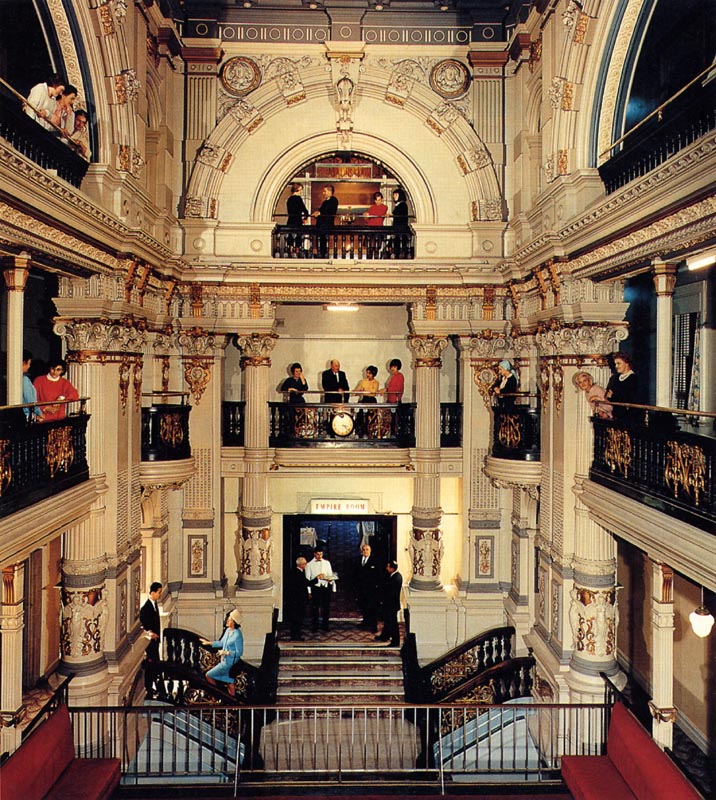 The interior vestibule.