If one bothers to search through Walking Melbourne one will find this information…..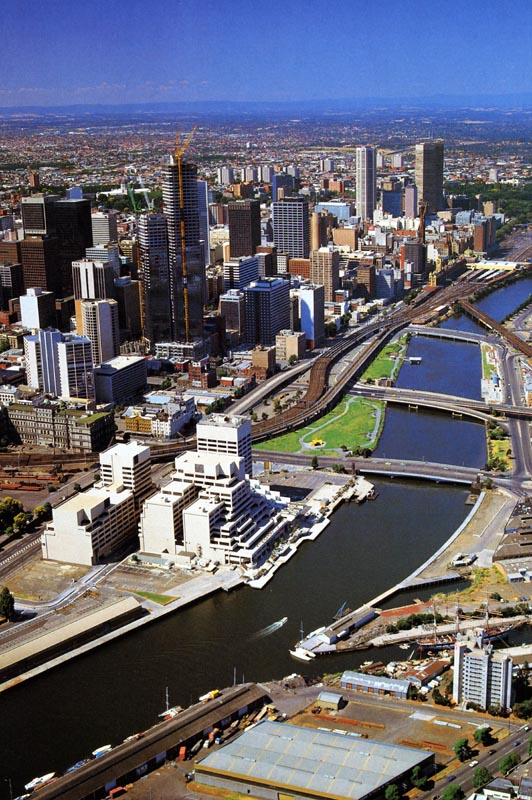 World Trade Centre
Built : 1983
Address : cnr Flinders Street and Spencer Street
City : Melbourne
number of floors : 12
Built in the Eighties period in the Brutalist style
Notable architectural features :
The WTC, which was officially opened in 1983, is a large complex comprising 5 inter-linked office buildings with service retail on the concourse level, a 2 level temporary casino and undercover and open lot car park facilities. The 5 office buildings were originally built in 1983 and the temporary casino was constructed in 1992. The WTC has a total built-up area of 90,713 sq.m.
Some information I found myself……….
Architects: Grahame Shaw & Partners PTY LTD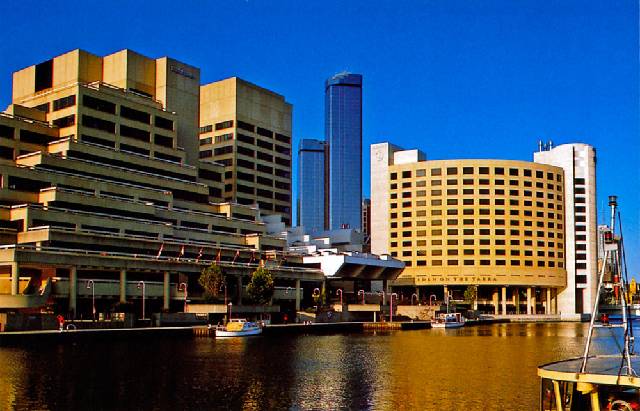 Postcard above of Congress Centre shortly after it was opened.
And for the future………………………
THE NEW WORLD TRADE CENTRE
As part of the WTC NORTHBANK project the Yarra River frontage will be progressively be upgraded to create a vibrant waterfront retail and restaurant promenade and boardwalk.
* New Forecourt redesign to create a new landscaped plaza.
* Restoring a Grand Foyer Atrium incorporating a new multilevel, atria creating a brand foyer entrance, and linkage to the Concourse level, and providing access to the lift lobbies of each of the three towers; Yarra Tower, Northbank Tower and Flinders Tower.
* New Waterfront Retail and Restaurant Promenade and Boardwalk.
* Community/Infrastructure incorporating gymnasium, squash courts, bicycle storage, child care centre, water access, new business centre, dry cleaning news agency, convenience store, service and food retail are all part of the new amenities under planning.