Here's some photographs I took on a walk around Albert & Middle park. Wasn't able to find out much about any of these houses I'm afraid.
The St Kila RSL is housed in this wonderfully ornate house, originally known as "Norval", dated to 1898-9 and attributed to the architect John Little. How on earth a house like this ends up as a RSL is anyones guess:
Here's another view: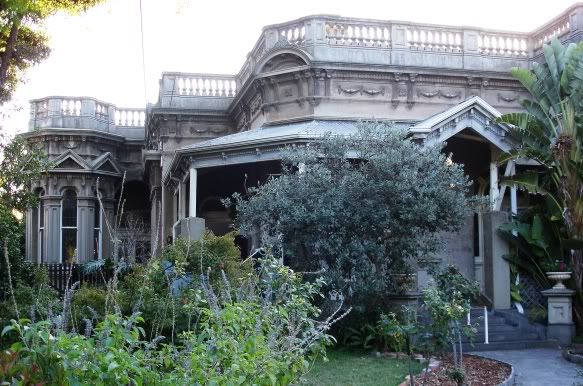 Close-up showing elaborate decoration: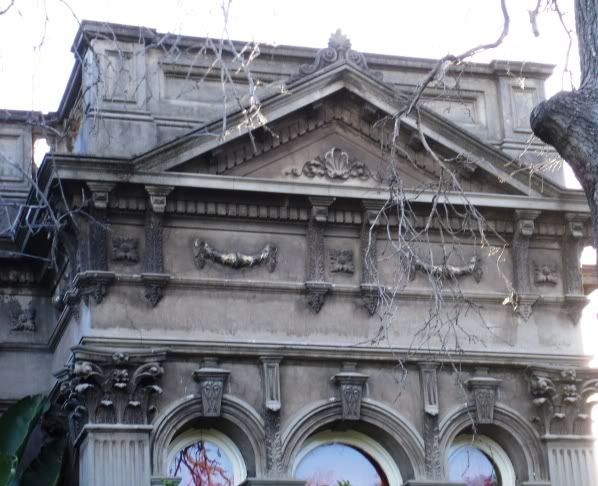 This house only a couple of doors down from the RSL:
Beautiful house, with a great turret (believe this house is now divided into apartments):
Close-up of the turret. Ideal for knocking back a couple of quiet ones on a warm evening:
Just one of the many attractive terraces that line Canterbury Road:
Another lovely house on Canterbury Road. The tower looked as though it was serving as an office: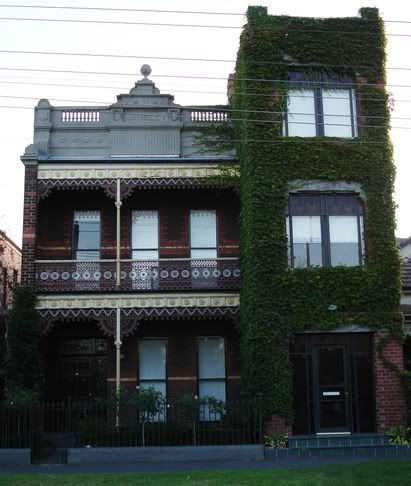 This attractive house was further on down the road:
This house was once known as "Mimosa" and dates to around 1900. It was difficult to get a clear shot: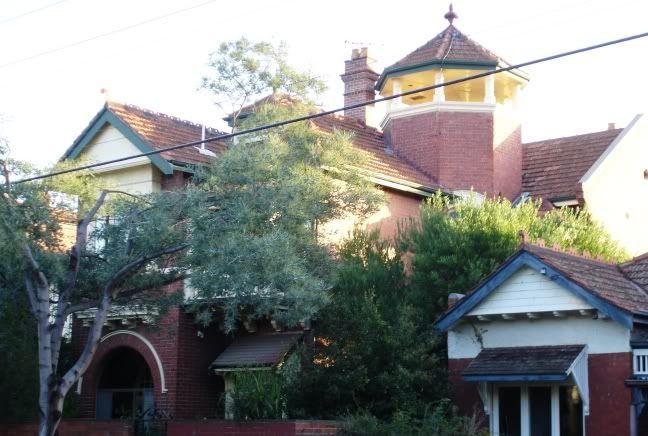 Time for a beer again: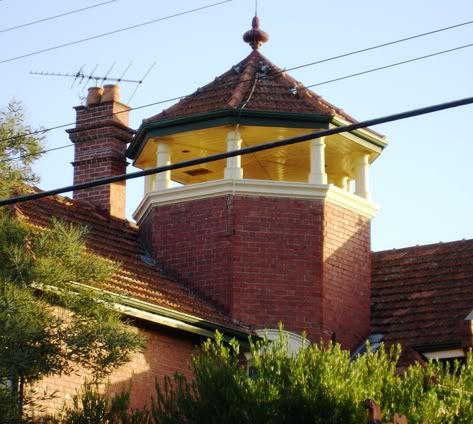 Yet another on Canterbury Road. Haven't been able to find out anything about this one. Very distinctive: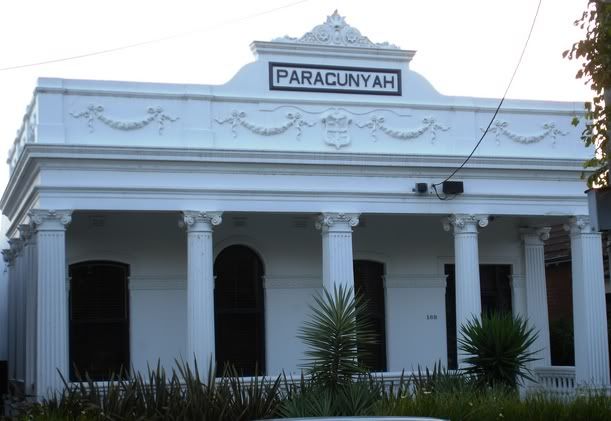 Detail. Any ideas about the coat of arms?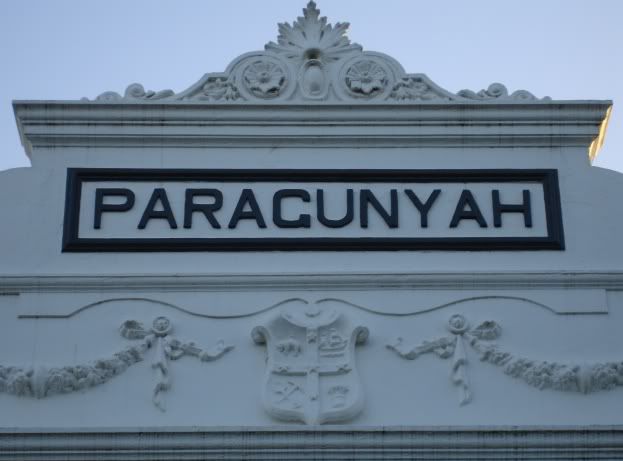 Still walking down Canterbury Road....and this is "Karmen":
Detail from "Karmen" - hmmm, 1985?
Eventually I walked down to the St Vincent Place, the streets in this area were laid out in 1857.... (really in Sth Melbourne by now)....this whole area is lined with beautiful houses which most are impossible to take reasonable pictures of due to trees - here's a poor picture of the fantastic Rochester Terrace ( built in two stages in 1869 & 1879):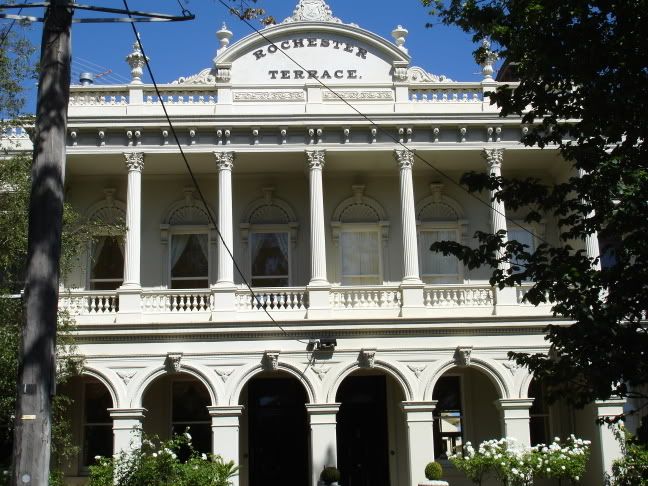 This great house with tower is also in St Vincent Place: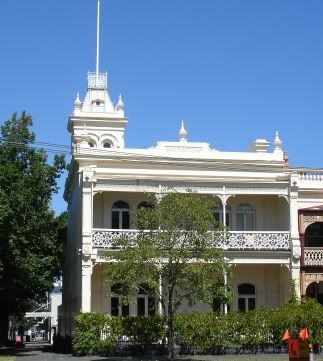 Some of the back streets around this area contain houses orginally built as working class residences........now more than likely you'd need a packet to buy into any of them - although perhaps this extraordinary little place I came across would prove the exception:
Here it is from another angle....goodness knows how this joint has survived so long:
It really does deserve one more look, nice um..."yard"....though goodness knows where that ladder is leading to. In case you were wondering - it is occupied:
Couldn't resist taking a picture of this beauty on the way back along Beaconsfield Parade: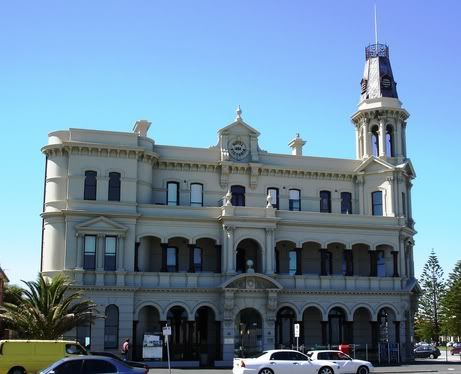 Closer look at the tower: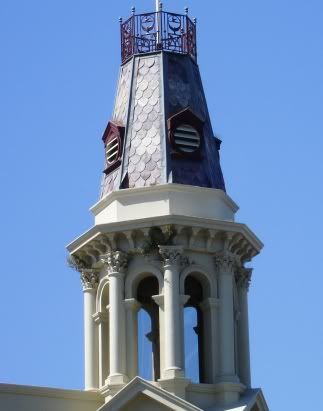 Nice: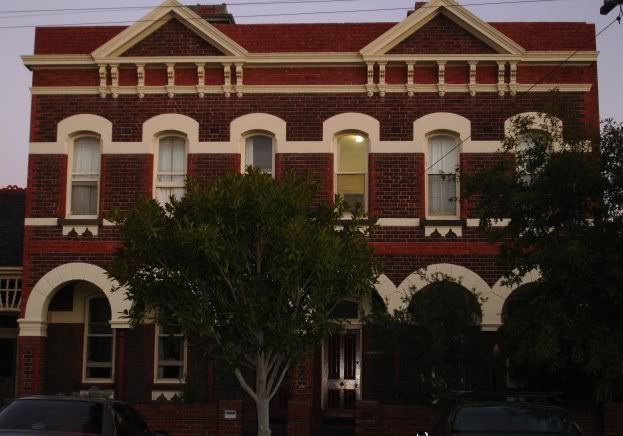 There were plenty more houses worthy of inclusion - but perhaps some other time. I had sore feet. To close - here's an example of what not to build in an area consisting largely of heritage houses...oh dear!